Automotive industry applications
Research into new materials and into the semiconductor technology has expanded the existing boundaries of the terahertz technology, opening the doors for its commercializing in numerous markets and applications, including the automotive industry.
TeraSense's technology shows great promise for applications such as the detection of disrupted steel (and nylon) reinforcements and foreign inclusions in rubber parts and the detection of corrosion in coated metal parts.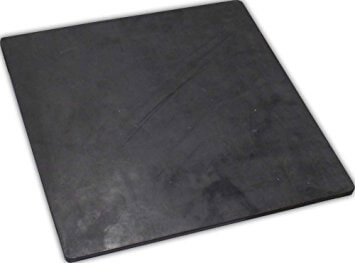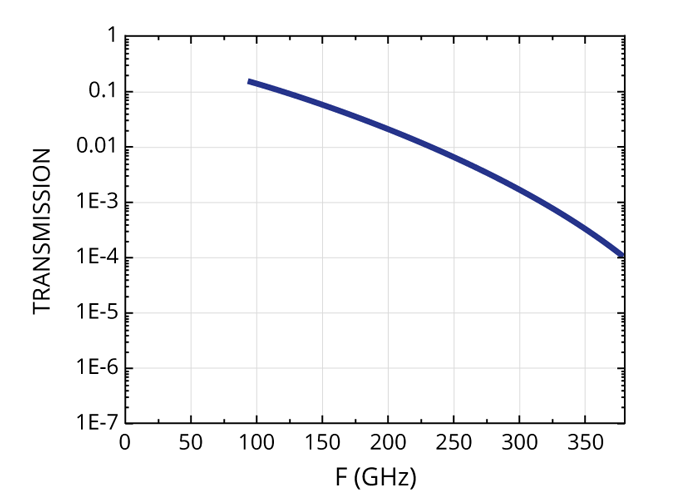 In fact, the automotive industry is one of the most prominent applications for Terasense's industrial THz scanners, which operate at 100 GHz and 300 GHz. Moreover, this application has a readily available proof of concept, as outlined below.
Detection of disrupted steel reinforcements inside tires
Many tire manufacturers require a harmless, safe, and effective solution for inspecting steel cords embedded inside rubber tires. The crucial task is to check the embedded metal wires for continuity and/or availability. Car tires are made of 1- to 2-mm-thick rubber pads that are pressed together in a sandwich manner to form a robust tire layer.
Steel cords to be inspected are usually 0.7 to 1.5 mm in diameter, which lies perfectly within the current capabilities of our most enhanced 300 GHz scanner. Our technology can also determine the belt ply's edge position in the tread area.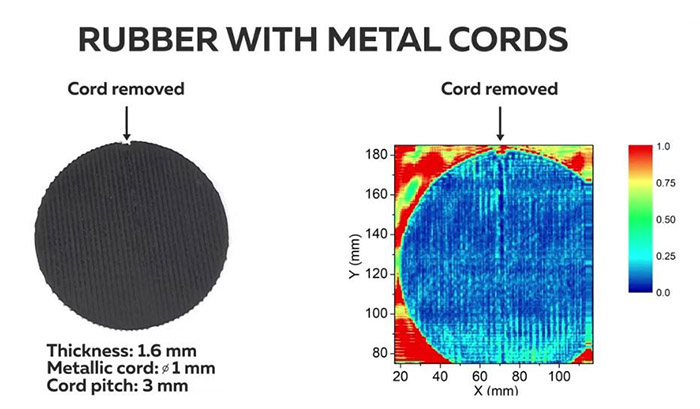 Our 300 GHz scanner can detect and visualize anomalies, internal defects, and foreign bodies as small as 0.5 mm and can support imaging speeds up to 15m/s. The terahertz images shown here accurately demonstrate the imaging resolution achievable by the TeraSense 300 GHz scanner.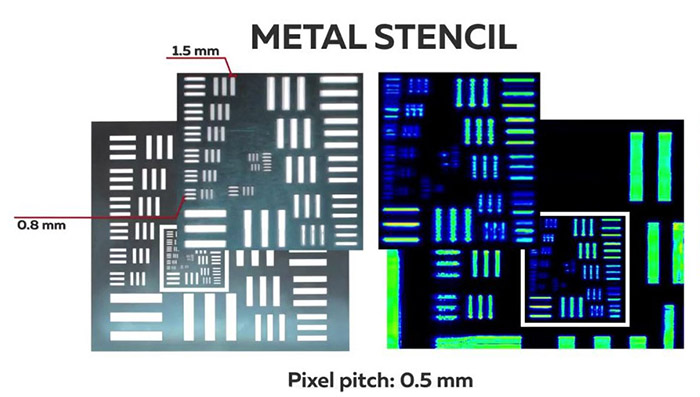 Detection of corrosion in metal parts
Most metal automotive parts are exposed to corrosion, but it is often difficult to determine corrosion due to the fact that because those parts are coated with paint as, for example, body parts. In other cases, the steel reinforcement of rubber belts or tires is subjected to corrosion. Noncorroded metal parts will clearly reflect the THz signal, whereas corroded parts will reflect the signal poorly. This makes it easy to interpret the images produced by our THz scanners and locate corroded metal.