Terahertz Imaging Cameras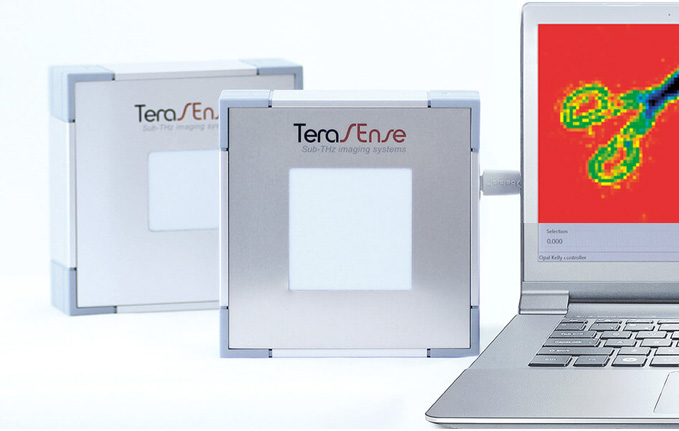 Get a Free Consultation
Do not wait — get a FREE professional consultation within the next 24 hours
Our terahertz imaging cameras operate at frequencies 0.05 — 0.7 THz where most common materials are transparent. The detectors for THz camera sensor arrays developed by TeraSense have advantages of low cost and ease of fabrication in large quantities, thanks to compatibility of the TeraSense technology with mass-production lines of semiconductor industry. The detector arrays are scalable in the number of pixels. Camera models with 256, 1024 and 4096 pixels are available to accommodate any budget. It is essential that the spatial resolution of TeraSense cameras is around 1 mm and its registration time is less than 1 second. This makes it possible to effectively use TeraSense imaging chips for many terahertz applications in science and industry. For more information, please contact us !

Mr. Wolfgang Gruber
Managing Director, SEMIC RF Electronic GmbH
«SEMIC RF Electronic GmbH has been closely cooperating with Terasense since 2014 and is proud to have taken hand in discovering and polishing some of the interesting applications for Terahertz imaging systems, both for science and industry. We at SEMIC RF are determined to focus now on one of the applications associated with Terahertz imaging for mail and parcel screening, which is the intended purpose of Terasense flagship product — high speed THz imaging line scanner.»

Prof. Dr John Sheridan
University College Dublin, Ireland
«Having received both commercial and EU funding to study the practical application of THz imaging we carried out an exhaustive search of commercially available systems. Terasense offered excellent technology, extremely helpful customer service and very good value for money. Given our engineering requirements going with a Terasense product was a no-brainer!»

Dr. Sergey Krayushkin
Deputy General Manager, Laser Division, Tokyo Instruments, Inc., Japan
«TeraSense products demonstrate excellent work. In collaboration with colleagues from the Medical Academy, we provided series of successful experiments in Terahertz imaging of epidermis.»

Mr. Frank Yang
Business Development Director SPARK Electro-Optic Co., Ltd., China
SPARK was happy to be the first partner to introduce Terasense products into Chinese market. We have been closely cooperating with Terasense since early 2014 and are honored to witness a truly stunning development of their innovative terahertz imaging technology. In China many scientific institutions are engaged in THz technology research efforts, but it is always a big problem to find an effective and high-power terahertz source or, better, a comprehensive imaging solution. Terasense is always ready to offer their innovative and viable solutions to solve many imaging objectives for our customers. Thanks to their reliable and high power terahertz sources and detectors Terasense has achieved amazing results especially in transmission mode (direct imaging) in their certified spectral range. Over the more than our 5-year long collaboration history Terasense managed to pleasantly surprise dozens of our customers with their continuous drive for perfection, as we all observe that Terasense's new products perform better with each year. Our research and scientific customers are happy with Terasense products and we highly recommend them.
Since 2008
bringing innovations in THz imaging

Over 500 happy clients
in science and industry

50+ distributors
around the world

2 headquarters and
40 people team
with half holding Ph.D. degree

100+ publications
and 5 patents