Distribution of interest toward Terasense THz products in the world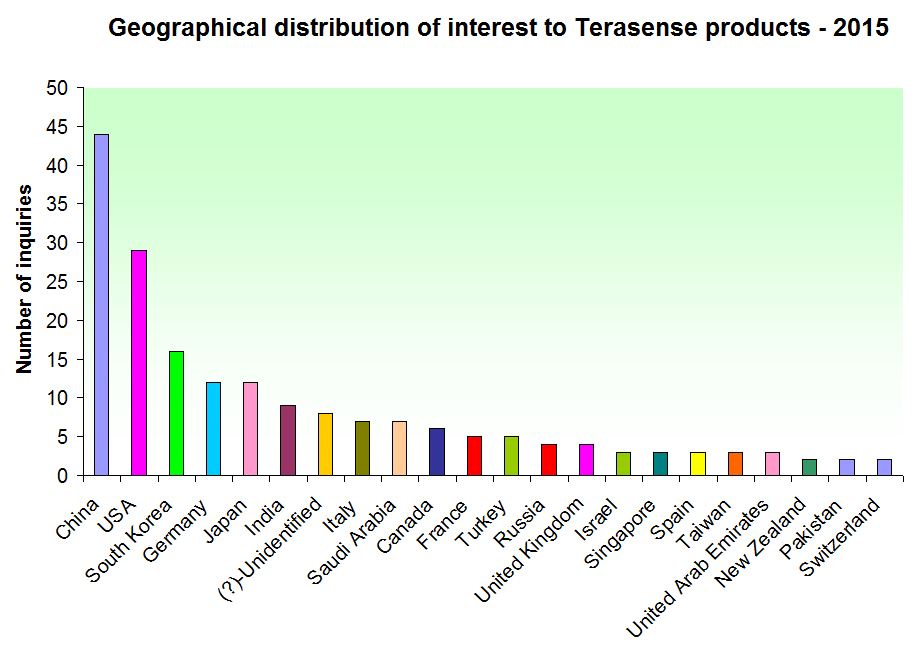 Recent survey conducted by Thomas Hochrein, SKZ, in Markets, Availability, Performance and Trends of Terahertz Systems (Hochrein, 2014) vividly proves that Terahertz topic is rapidly gaining popularity in the world. This novel technology - also known as THz or T-ray- offers unmatched opportunities in coherent, time-resolved detection in a number of applications.  Hochrein's market research, as well as a number of other publications and recent patents, confirm increasingly growing interest in Terahertz –related techniques, while Thomas Hochrein determined the 'annual growth rate for this activity to be reaching 21 %.
As a prominent manufacturer of innovative Terahertz imaging systems, THz cameras, generators and detectors, Terasens keenly monitors how these potent terahertz waves are rolling over the world getting more and more adepts to the club. We believe that many members in THz community could find our observations interesting or useful and therefore we gladly share them below.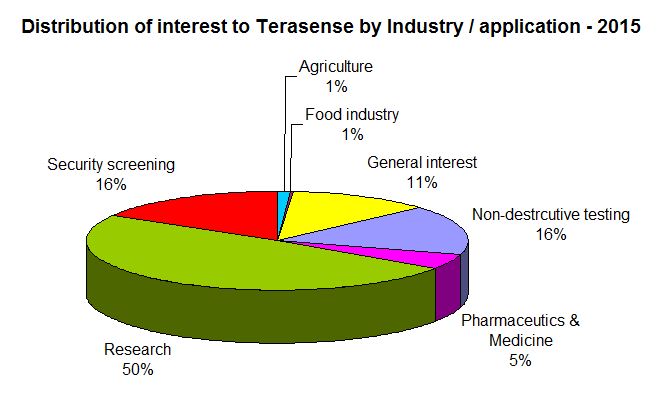 As our diagram of Geographical distribution of interest to THz products – 2015 shows, China, USA, South Korea, Germany and Japan are indisputable leaders generating the majority of inquiries. Other countries like Italy, India, Saudi Arabia, Canada, France, Turkey, United Kingdom, Spain and Israel are legging behind, but will surely catch up soon. With that in mind, we emphasize that our chart reflects only the picture of interest (based on inquiries) to our products generated internationally, while the actual sales picture may not necessarily be the same.
Our solutions offer a wide range of unique opportunities in a number of applications. Among them our customers point out some as the most successful and promising directions, viz. hidden objects identification (security screening), non-destructive testing (NDT), hidden defect identification and quality control, beam profiling /calibration. As our Distribution by Industry / application diagram shows, most of these applications have been pursued by researchers and scientist, who dominate in our structure of inquiries.
However, the recently announced release of our latest product TeraFAST-256-HS high speed linear camera may start shifting that balance towards INDUSTRIAL market. We lay high hopes on our high speed line scanner that was designed specifically to fill the needs in non-destructive testing and quality control for various INDUSTRIAL APPLICATIONS.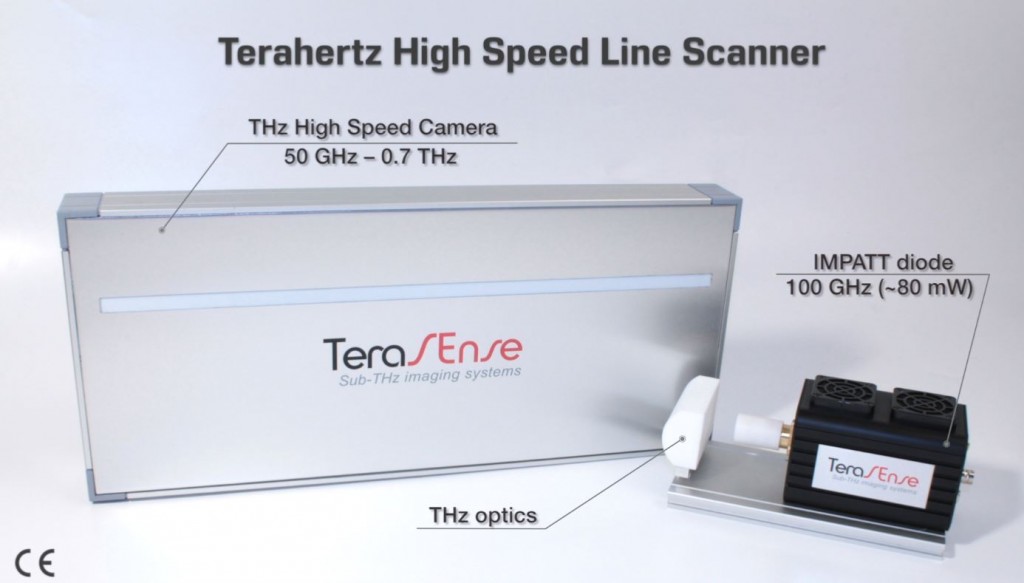 TeraFAST-256-HS high speed linear camera
Have any questions? Please contact us.