Latest and greatest updates on commercially available 140GHz wave sources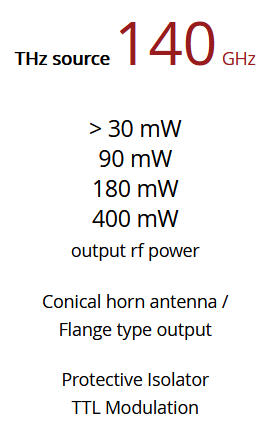 'No man ever steps in the same river twice, for it's not the same river and he's not the same man'. These words are attributed to Heraclitus and he was absolutely right: everything around us changes together with us. Time flows and Terasense keeps evolving with time. Regardless of whether we want it or not some products become obsolete and disappear, while new models of our THz imaging systems, THz detectors and terahertz generators emerge and are offered to the customers.
Today we would like to update our web-site visitors on the changes that occurred in our line of 140GHz  wave sources. Those who are attentive to details might have notice that a couple of weeks ago we used to offer that  product line including such models as 140GHz(30mW), 140GHz(90mW), 140GHz(180mW), 140GHz(300mW) and 140GHz(600mW). However, as a result of the recent upgrade, instead of  two previous models 140GHz(300mW) and 140GHz(600mW) now we can offer a new model 140GHz(400mW), which proved to be more reliable and  stable in operation. We value our reputation and therefore try to stick to a better safe than sorry principle in production.
Just like before, each base model is offered with respective output flange (WR-6), and includes Protective Isolator and TTL Modulation.  On top of that, there are some add-ons, including detachable high gain conical horn antenna, attenuators, which can also be very useful for most of the customers and which are priced separately.
You are welcome to take a look at the complete updated line of our terahertz waves sources below or at the respective web-page at our web-site.
Bottom line, if you plan to purchase any particular model, hurry up! Carpe diem and place your PO today! Who knows what's in store for us – we may discontinue its production and it will be removed from Terasense product offering. Lead times tend to grow a bit, but that seems to be a global trend.
| | | |
| --- | --- | --- |
| AAA | | AAA |
Have any questions? Please contact us.