Meet TeraSense at THz Optoelectronics and Photonics Symposium in Saint-Petersburg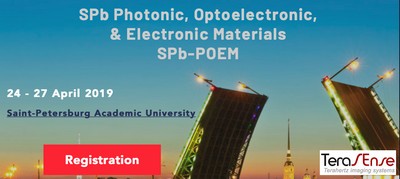 On April 25-26, 2019, TeraSense is taking part in THz Optoelectronics and Photonics Symposium held during the conference on Photonic, Optoelectronic & Electronic Materials (POEM) hosted by Saint-Petersburg, Russia.
Internationally renowned experts in the THz field are joining the symposium to discuss the most critical technological insights, discoveries and new practical applications. The symposium will be focused on photonic and optoelectronic aspects of THz technology, including THz sources, detectors, modulators, and THz imaging and spectroscopy.
As this year's POEM conference is conjoined with another famous scientific convention, SPb-Open, the total number of participants is expected to be over 400.
In addition to the exchange of ideas at the symposium, TeraSense is going to showcase its most popular THz products: THz wave sources, based on IMPATT diode technology, and terahertz imaging camera, fabricated with GaAs high-mobility heterostructure.
The exposition will take place in the St-Petersburg National Research Academic University in St. Petersburg.
Have any questions? Please contact us.