New demo version of our terahertz Security Body Scanner is out now!
We are glad to inform you that a latest version of our Security Body Scanner is available for demonstration in our lab on a constant basis. 
Terasense body scanner is intended for stand-off  detection of weapons, including cold steel and fire arms, bombs and grenades, explosive belts and various contraband items hidden under clothes.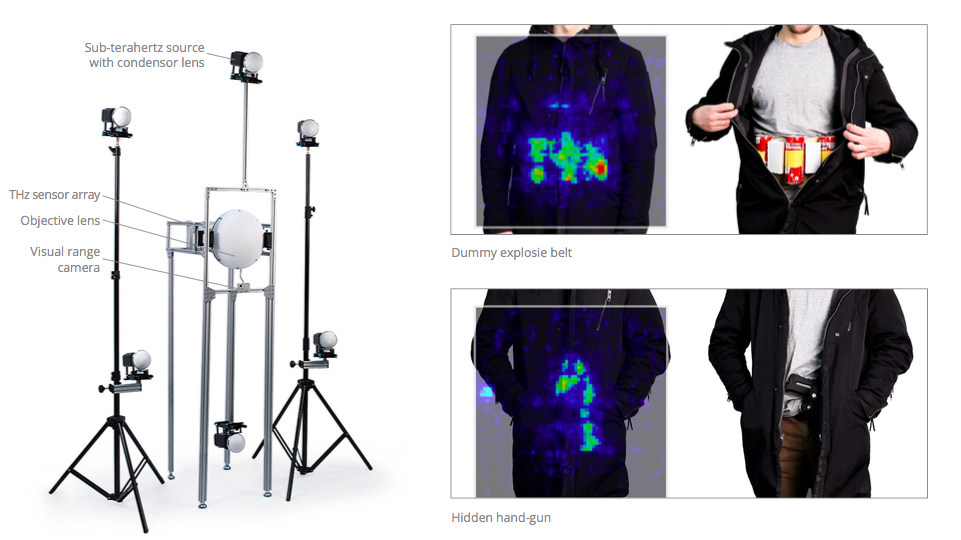 The highly upgraded version the Body Scanner ver. 2.0 features the following enhancements:
By increasing the camera's sensitivity by a factor of 10 and increasing the number of THz sources to 6 units, we improved the image quality, which gave us an opportunity to more clearly define the outlines of  the objects hidden under clothing.

Increased operating distance up to 6 m

.

Combined both terahertz and visual images on the same screen. Now, you can detect an exact location of the hidden object on the body

.

By s

ignificant increase of the frame rate we synchronised the terahertz and visual images and achieved a "video mode" in the terahertz image

.
Improved design of the tripods and mountings.
Optimized price of the system.
We are ready to demonstrate the system through either personal meeting in our lab or via Skype video call. For those who are interested in the demonstration, please feel free to contact us.
We look forward to your inquiries!
Have any questions? Please contact us.