Microtech Instruments, Inc. will promote our Terahertz imaging equipment at Photonics West 2015 in San Francisco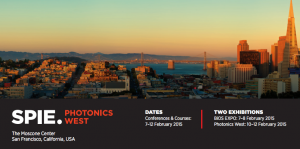 Photonics West, to be held in San Francisco on February 7-12, is the largest and most influential conference and exhibition in North America for the laser and photonics community. 20,000 attendees, two exhibitions, 1,250 exhibiting companies, and 4,700 papers on biomedical optics, biophotonics, translational research, industrial lasers, optoelectronics, microfabrication, 3D printing, MOEMS-MEMS, optical communications, displays, and more. Learn and network with the leaders, researchers, and engineers creating new possibilities and delivering solutions.
Technical conferences will consist of BiOS - Biophotonics, Translational Research, LASE, OPTO, MOEMS-MEMS, Green Photonics, 3D Printing.
Exhibition will consist of 2 parts: BiOS Expo and Photonics West Exhibition - The flagship event for companies in the photonics industry. Find the latest products, tools, and devices from more than 1,250 companies.
Terasense's new distributor in USA, Microtech Instruments, Inc. will present the topic "Video rate imaging of narrow band THz radiation based on frequency upconversion" at the Session: New Developments in THz, RF, Millimeter waves, and Sub-Millimeter-waves.
Microtech Instruments, Inc. will be promoting our products  and demonstrating our THz imaging camera and generator set-up. Please welcome to try our demo unit at booth of Microtech Instruments, Inc.!
Microtech Instruments is a manufacturer of advanced scientific instruments for ultrafast Laser Micromachining, Coherent Raman, Multi-photon and Terahertz imaging and spectroscopy applications.
Serving the global scientific community for over 15 years, Microtech Instruments established a strong reputation for delivering highly functional and reliable products. Committed to innovation, Microtech collaborates with leading research organizations worldwide.
Have any questions? Please contact us.