Terasense releases new publication dedicated to water content analysis & distribution in plants as a promising application for our commercial terahertz imaging systems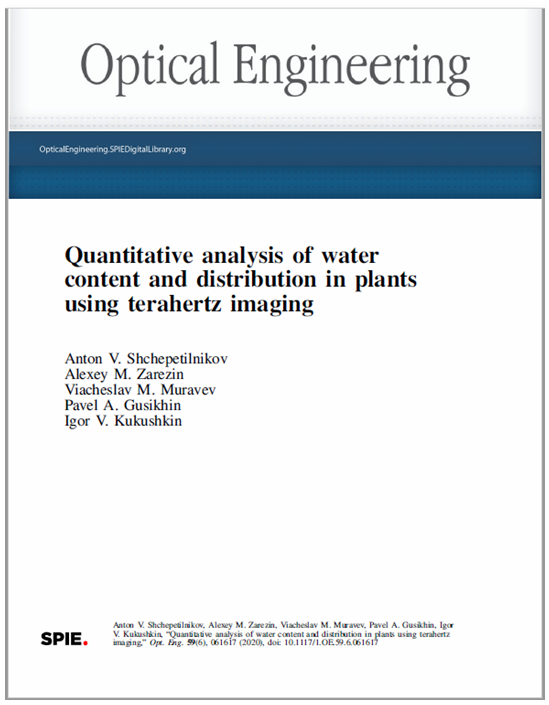 Terahertz waves have many useful properties, which can be potentially be used for various non-destructive & non-invasive inspections purposes. One of the most salient features is an absorption of THz rays in water or certain other liquid substances. At the first glance it may be perceived as a disadvantage, because  heavy attenuation precludes our THz imaging systems from seeing thought wet materials or stuff containing some amount of water of similar fluids and detect anomalies of defects inside of them. It is true. However this medal has its reverse side, and looking at its  bright side such attenuation may come very handy for certain applications associated with agricultural, food industries and bio-engineering.
Having been inspired by numerous inquiries from our real customers from agricultural industry TERASENSE scientists decides to conduct a comprehensive study dedicated to water content analysis and detecting changes in water content in plants and establishing capabilities of our THz imaging systems in this respect. Their efforts were summarized in one of our most recent publications titled "Quantitative analysis of water content and distribution in plants using terahertz imaging'' posted in Society of Photo-Optical Instrumentation  Engineers (SPIE), published online Jan. 22, 2020.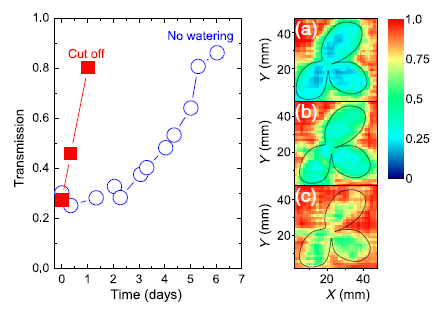 Led by Dr. Anton V. Shchepetilnikov our group of researchers, through a number of in-vivo experiments with grass and clover proved that a quantitative analysis of the temporal evolution and spatial distribution of water content is possible. Water content can be measured fairly easy with our imaging system consisting of a terahertz imaging sensor array (THz camera), special condenser lens  and a wave source at 100 GHz (based on continuous wave (cw) IMPATT (impact avalanche and transit time-diode ), which were set to operate in transmission mode.  Of course, if our customers' and web-site visitors' interest is kindled, we highly recommend to read the whole article, which is posted at our web-page for PUBLICATIONS, among dozens of other articles dedicated to terahertz waves and our patent-protected THz imaging technology.
In a nutshell, here is what they did and discovered. The leaf samples of grass and clover were exposed to 100-GHz radiation over a number of days in succession to measure the incident emission power.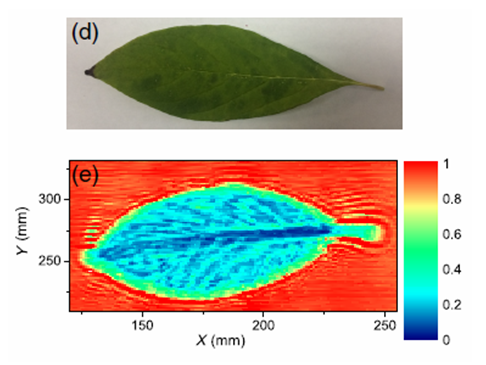 In the course of experiments grass and clover were subjected to the condition of insufficient water supply (meant to simulate a natural drought). This allowed our research group to  determine progressive   variation in the level of the transmitted signal. Needless to say, that after watering the plants were observed to restore its initial (normal) water content value measured in transmission. The conclusion was made that the 'presented experimental results demonstrate that Terasense imaging instrumentation can be effectively used to monitor the hydration state of plants in their natural environment.' Successful use of our THz imaging technique for water content analysis & distribution in plants can obviously be useful in such fields as nondestructive separation of crops and seeds, monitoring plant drought stress response to determine plants viability and similar agricultural applications. However, as Terasense scientists believe, the applicability is much wider, indeed, and 'Possible practical areas of application include – but are not limited to - noninvasive detection of cells and tissues in medicine, and monitoring water content in living cells of humans and plants, you name it.
Have any questions? Please contact us.