Terasense upgrades its product line of fixed frequency 300GHz wave sources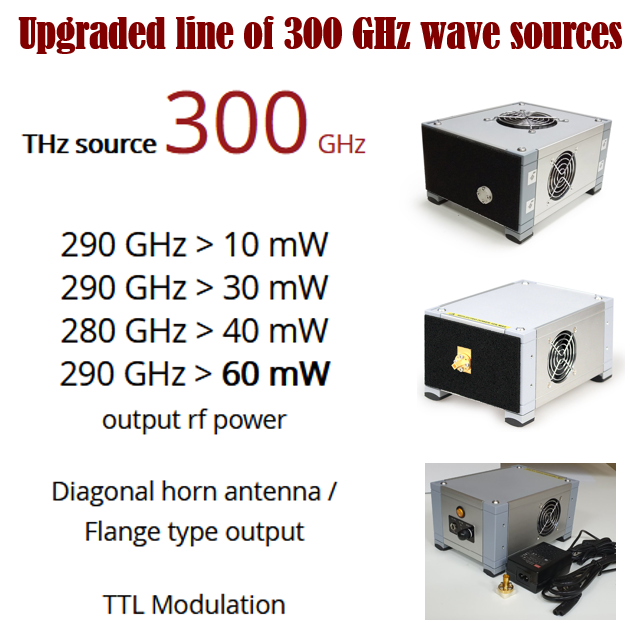 Just as other research-oriented manufacturers Terasense is committed to its continuous improvement philosophy and is virtually doomed to success. Since our inception more than 10 years ago we've been coping with the incessant urge to perfection of our tireless and resourceful engineers, and you have to live with it too. Many of our customers remember that over the last 5-7 years we've been posting news about our upgrades with increasingly growing tempo. A few years ago we announced the upgrade of our line of fixed frequency wave source at 100 GHz with the outpower options ranging from 80mW up to 1.8W. A bit later we shared the good news about our line of 140 GHz and 200GHz wave sources – each including at least three or four models.  
Now, it looks like the time has come to handle our 300GHz wave sources. It is remarkable, that just about two years ago our line of 300GHz wave sources was subjected to a very substantial upgrade, which up until recently used to include three models 290GHz (>10mW); 280GHz(20mW) and 280GHz(40mW). Well, we can say now that it's in the past and our customers and fans have to resigns their minds to a bit different line of fixed frequency wave sources;  290GHz (>10mW);  290GHz (>30mW); 290GHz (>60mW).
Add-ons remained the same as before: horn antenna, TTL modulation. Each of our THz sources can be ordered with two major output types: A) respective WR- output flange that is considered to be a sort of basic option included in price above or B) detachable horn antenna . You are welcome to check out  the specs of both medium gain and high gain horn antennas for 300GHz range at our web-page for  Microwave and terahertz horn antennas.
The tendency of a growing  output power  for our terahertz sources is obvious, and we are proud of it.  Taking into account that the output power is one of the critical success factors for penetrating thick or high density materials we have grounds to say that  our high speed 300GHz scanner systems have also been upgraded as they are now supplied with a source 290GHz(>60mW) which has 50% higher output power of as compared to 280GHz(40mW). We have all the more reason to keep on going that course steering to the future achievements.
Have any questions? Please contact us.