The first Terasense security screening system prototype based on terahertz imaging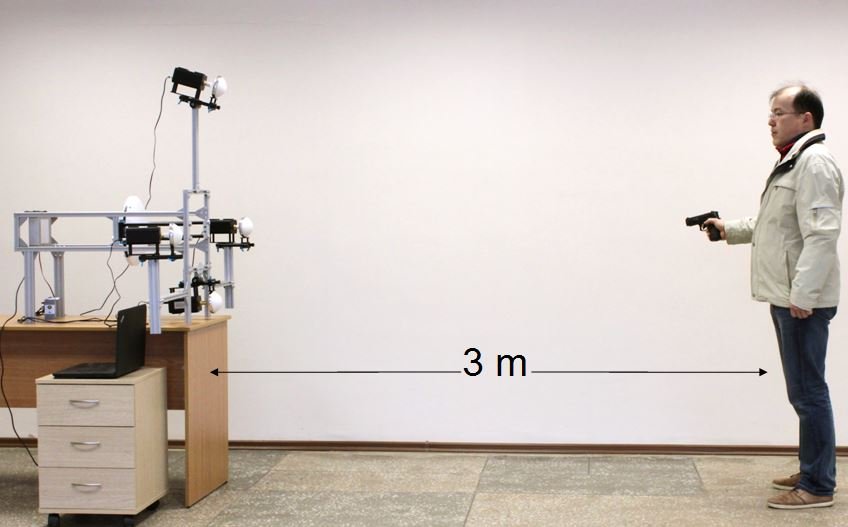 With a rising level of violence and terrorist attacks worldwide Terasense has been getting an increasingly growing number of inquiries in security screening or body scanning systems that would be based on terahertz imaging technology.  
Unlike X-rays, THz waves are safe for humans, which makes such comprehensive solution for screening people or bags so valuable for customers (like those used at the airport check points ). TeraSense team has taken these challenges seriously and is now ready to offer our own THz-based security screening system prototype.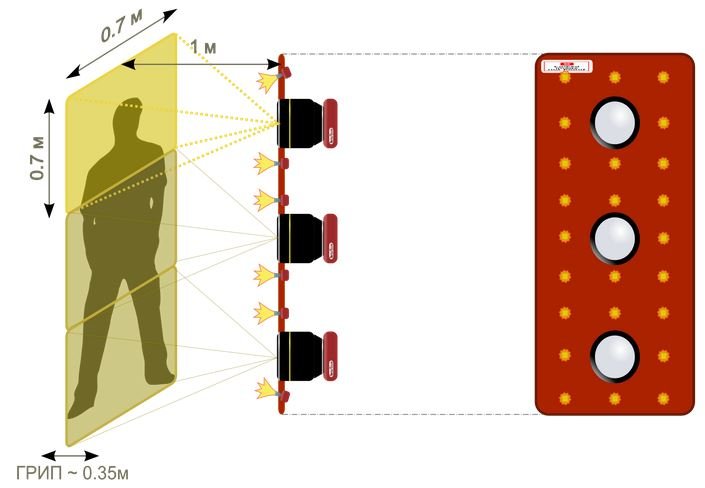 The concept of our body scanner (people screening system) intended for identification of objects concealed under clothes is briefly described at our web-site under the tab application –HOMELAND SECURITY- section. We would like to emphasize that up until recently the entire people screening system existed only as a concept, as opposed to its component elements (e.g. TERA-4096 THz imaging  cameras and IMPATT diodes, which are commercially available).
Our first security screening system prototype shown in this article operates in reflection mode and includes  one Tera-4096 (64x64) THz imaging camera; four IMPATT generators and special THz optics. The effective field of view covers the area of aprx 50 x 50 cm at a distance of aprx 3m away from the target. Once this prototype unit project is successfully completed and hone up, it will open the doors to many security screening applications (airports, checkpoints, underground and other crowded places with high through-put capacities.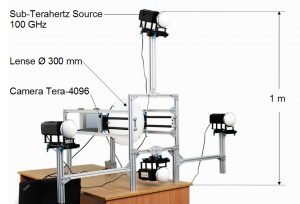 BODY SCANNER PROTOTYPE MODULE
- Tera-4096 THz camera   - 1 units
- IMPATT diodes @ 100 GHz  - 4 units
- THz optical system
A whole body screening system should include three systems like prototype module to be able to effectively check/screen the whole human body. In fact, our experts believe that even at a higher distance it will provide some information - to detect the presence of hidden objects (which may mark the suspect person for further physical inspection by police/security officers).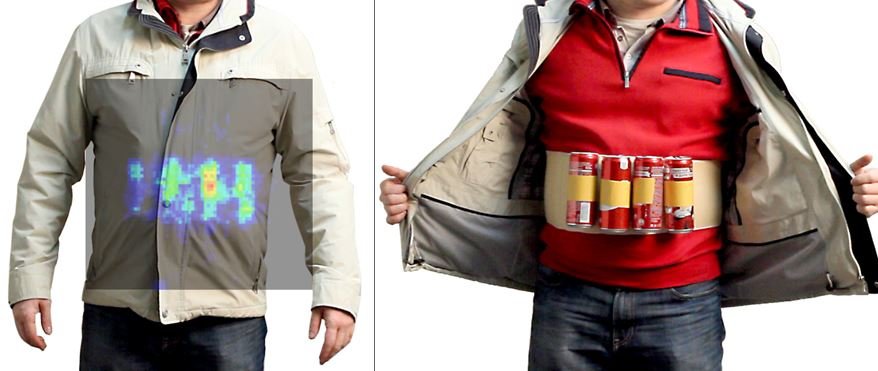 Up until recently Terasense has been regarded as a manufacturer/supplier of THz cameras and THz sources, which could potentially serve as components for people security screening systems (aka 'body scanners'). However, now we feel very proud to make this final step forward, which allowed us to offer  our own solution for  security screening purposes aimed at  detecting objects (e.g. weapons, drugs, explosives etc) hidden under clothes.
Of course, as any other innovative device, such solution can be further polished and improved in terms of imaging resolution, operating distance, field of view and other aspects. Considering that the cost of the overall screening system (body scanner) is one of primary concerns for many customers and system integrators, we already know how to achieve considerable savings.
Have any questions? Please contact us.