Terahertz Security Body Scanner: The Long Awaited Video Is Out Now
The world's first security body screening system based on the terahertz imaging technology originally developed by TeraSense is finally released. Unlike our first system - High Speed Linear Terahertz Scanner, specialized for conveyor belt applications in various industries including Security (mail and luggage screening), this new freshly baked product was specially designed for remote detection of concealed weapons and other suspicious objects hidden under clothes in various public places like airports, railway stations, stadiums or government buildings' entries.
The first prototype is capable to detect any objects larger than 3 mm at the distances up to 3 m covering the area of 0.7 x 0.7 m on inspected object in reflection mode.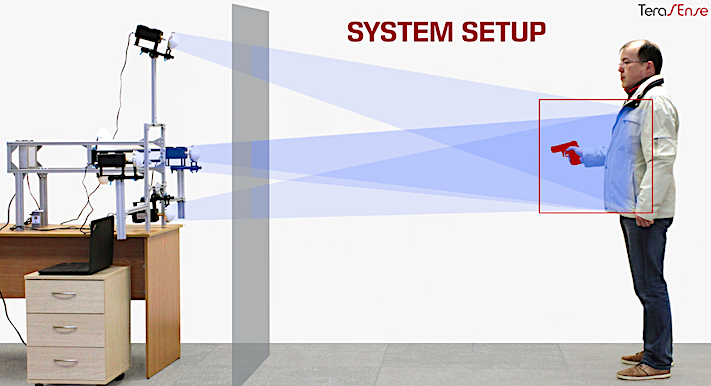 The Terahertz Security Body Scanning system consists of a set of THz wave sources for object illumination, a compact terahertz camera and an enhanced optical system for collecting the reflected beam and collimating it onto the sensor window, all this followed by a PC with previously installed original Terasense Viewer ® Software. 
The system is so simple that can be set-up in minutes. Being hidden behind a wall, made of any material transparent in terahertz waves, makes this solution a stand-off performer for covert security screening.
Have any questions? Please
CONTACT US.
Have any questions? Please contact us.