Meet Terasense at IRMMW-THz in Paris – September 2019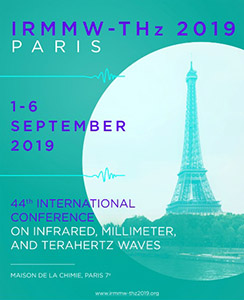 TeraSense Group Inc. is pleased to announce the exciting news that we are taking a part in the upcoming 44th International Conference on Infrared, Millimeter, and Terahertz Waves (IRMMW-THz) in Paris, France. The conference is held on September 1-6, 2019 at the Maison de la Chimie Conference Center, in the very heart of Paris. Traditionally, this large conference has been attracting many leading scholars, physicists, engineers and professionals, who want to share their knowledge and identify potential axes of future collaborative work.
We are exhibiting our most recent achievements in THz area: the new high-power 280 GHz generator – the absolute world champion in the market and the new imaging system at 300 GHz that opens new market niches for THz technology. We are also presenting an official press release of the latest version of our Security Body Scanner, an unprecedented THz imaging system capable of remote and stealthy operation.
During the Conference TeraSense is organizing an interactive workshop where anybody will have a chance to experience our technology first-hand: to experiment with our devices doing some practical tests to answer all possible tricky questions.
This year we are joining our efforts with our new French distributor, OptonLaser, represented by its Sales Director, Vincent Aubertin. We strongly encourage all our customers not to miss the chance to attend this conference, a truly extraordinary event for the entire THz community, and we are especially looking forward to seeing you at our booth #26!

Have any questions? Please contact us.