New TeraSmart Series of tunable terahertz sources 70-77 GHz; 140-155GHz; 280-310 GHz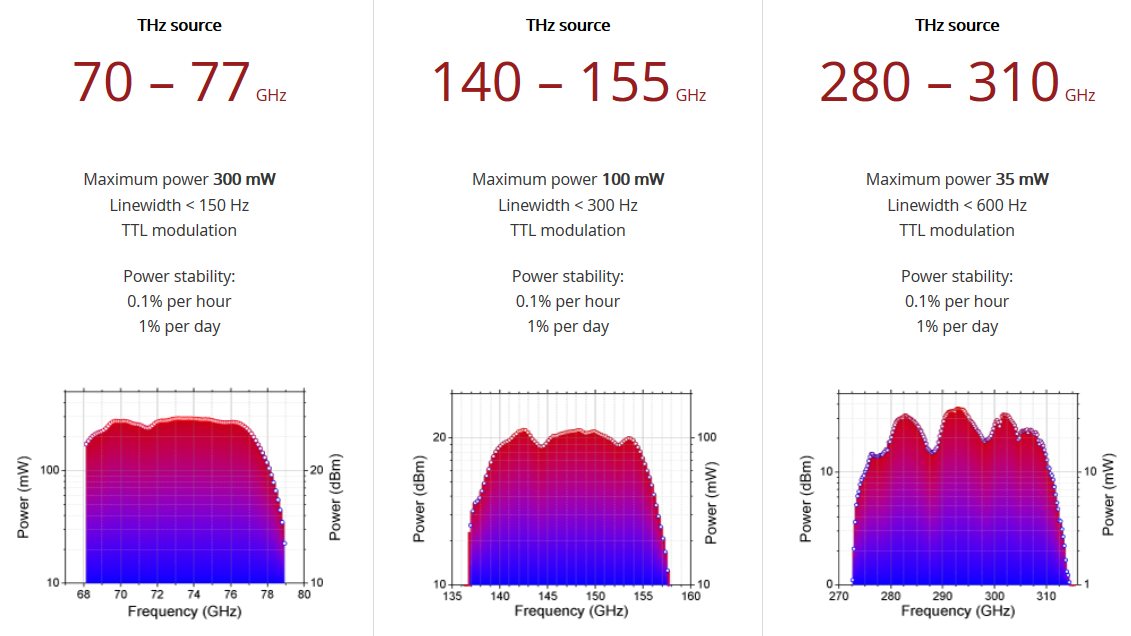 A few months ago, in early August 2020 we posted a small article dedicated to our Tunable 140-155GHz Wave Source is released from the pipeline. That was viewed as breakthrough for our research and development team and it was, indeed. However, as thousands of our customers know, irrespective of our satisfaction  with what has already been achieved,  we never rest on laurels and always try to continue our development process. It stands to reason, once you secure a bridgehead, you should move on and carry forward the advance to expand your footing and gain new territories. That is the true way to success.
That's exactly what Terasense researchers did and today, about half a year later, we can proudly say that we've managed to considerably expand our footing in the domain of tunable terahertz generators by adding a few more tunable source models to our product line.  In fact, that give us ground to speak about a new series  of tunable terahertz sources, which are  based on broadband Schottky diode multipliers chains and which were  nicknamed TeraSmart series.  For the present Terasense offers three different models of TeraSmart tunable sources (1)  70 – 77 GHz ,  (2) 140 – 155 GHz (which was released in summer) and, finally,  (3) 280 – 310 GHz.
TeraSmart generators are designed to have a 10 – 11 GHz synthesizer and a transmitter that operate as interlinked modules inside.  As you can see in the charts, the output power-to-frequency  curves are  not flat, on the one hand, but there are no sharp drops in power on the other hand. The specification sheet for each device indicates only the maximum power, which, for instance, for the first tunable model of 70 – 77 GHz can reach 300 mW.  Our experts believer that in the modern market of multiplier-based sources our fairly  mighty TeraSmart sources represent the best compromise between tunability and output power. Of course, that is a evaluative judgement and we leave it at the discretion of each customer to decide what works best for him.
Of course, such serious outfit calls for the use of a special software, which provides a pretty user-friendly interface and is surely supplied with each device.  In fact, TeraSmart is a fully integrated, plug-and-play system that can be remotely controlled. A supply package, among other things, includes a LabView version of the Open source code for a comfortable interface.  You are welcome to contact Terasense for further information.
Have any questions? Please contact us.